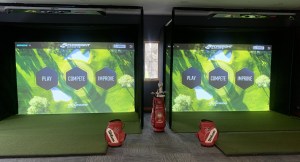 Enjoy year-round golf at Phillips Park Golf Course. The Park now offers 2 Foresight Sports state of the art golf simulators where you can play championship courses from around the country! Or if you are just looking to work on your swing use the golf simulators to dial in your distance on your equipment. Each bay can accommodate up to 2-4 players so grab your golfing buddies and get ready to have some fun.
SIMS are available to rent for a fee of $40 per hour.
For more information contact the golf shop at 630-256-3760 or book online.